As we all know, the railway line between London and Cardiff is being electrified, which has meant bye-bye to the old bridges of Splott and hello to new, elevated, bridges.
First to be replaced was Windsor Road, followed by Beresford Road Bridge and then Splott Road Bridge, which is still underway with construction due to finish summer 2018.  The last of the bridges to be tackled in this area was 121 year-old Mardy Road bridge (commonly known as Lamby Bridge), which has been closed to traffic since the spring.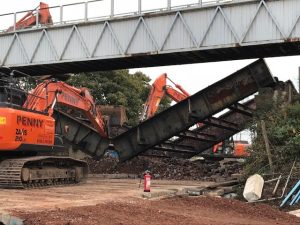 Today, Inksplott met with Steve Keighly, Programme Manager (Gauge Clearance), The Greater West Programme – Wales, Network Rail, to talk timelines and progress of the demolition and reconstruction of this key traffic artery between Splott / Tremorfa and Trowbridge / Rumney.
Originally, the new bridge was due to open in autumn 2018, however Steve is optimistic that the date can be improved upon:
"We are seeking an acceleration from the current declared date of next autumn.  I'm becoming increasingly confident that we'll be able to open in the summer sometime."
This is largely because there was a successful possession in October, where the old bridge was taken out and the new beams put back in.  The contractors, BAM Nuttall, demolished the bridge over the weekend of the 15th of October 2017, the plan being to install the new beams on the consecutive weekend.  However, the site was affected by high winds the following weekend, which could have jeopardised the timeline and set construction back by weeks.  Luckily, the team found enough 'still time' between gusty bursts to put in the essential beams.
Steve told Inksplott: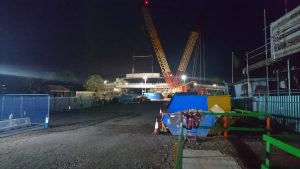 "That was a major risk (to the timeline); if we had failed to put all the beams in that weekend, we would have been struggling and would have probably lost a couple of months trying to find another time to put the beams in."
Steve was happy to confirm that construction of the new Mardy Rd Bridge is all on schedule, despite the complexity of diverting utilities, as with Splott Road Bridge.  There are many different utilities running over the bridge, such as electric, gas, water, that need to be rerouted with the help of the utilities companies, which takes time, though Steve is constantly pushing for improvements on completion dates:
"We're hopeful of opening that one next summer as well.  Hopefully by August next year, the bridge works should be substantially complete."
Once reconstruction of Splott Road and Maerdy Road bridges is complete, work to install the 'wires' can also be completed, finalising the electrification process.  Work has been undertaken to install the wires alongside bridge reconstruction putting foundation piles, main steel masts, cross-members, gantry beams, hangers and the wires in place.  Afterwards everything needs to be tested before a potential 'switch on' in autumn 2018.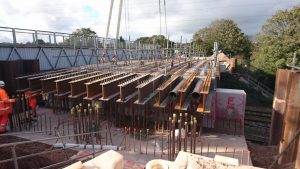 Maerdy Road Bridge will have a 120 year lifespan and will feature the same concrete patterned walls as Beresford Road and Splott Road Bridge, as agreed with Cardiff Council at design stage, with Windsor Road Bridge being the odd one out, decorated with blue steel panels.
So there we have it, a short update on Maerdy Road Bridge.  Big thanks to Steve for taking time today to talk to me about this and Splott Road Bridge (separate update soon!).
If you have any questions, or concerns about the work being carried out, you can contact Network Rail on
Helpline: 03457 11 41 41
Email: CRWales@networkrail.co.uk