Some people would bemoan the arrival of long roadworks right outside their door.  Most would sigh, harrumph, roll their eyes and have a good moan about it.  One local individual, however, came up with an inspired idea to turn traffic chaos into traffic calm.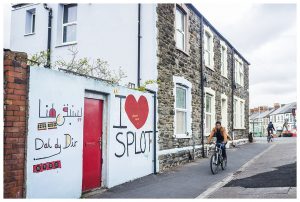 For the past year, words of wisdom have regularly appeared on a Pearl Street wall facing Splott Road, right in the middle of works to rebuild the bridge.  Poems, phrases, quotes and paintings have appeared on the wall in Adamsdown and given frazzled commuters something to smile at.  Even better, local residents can get involved!
This week, Inksplott interviews the lovely lady behind art installation 'The Pearls of Pearl Street'.
Inksplott: Hi The Pearls of Pearl Street thank you for being interviewed for Inksplott.  Can you tell us a little about yourself and your project?
Pearls of Pearl Street: Well it really came about whilst I was wondering how I would be able to cope with the noise and disturbance of a whole year's of road works, piling, articulated lorries, cranes, and goodness knows what happening right outside my front door as the bridge on Splott Road is being re built.  The traffic lights are virtually opposite. It occurred to me to try and change it into a positive thing. As traffic was idling right by my wall that faces the street I thought to write something on it to inspire people or make them smile or look at the world in a different way.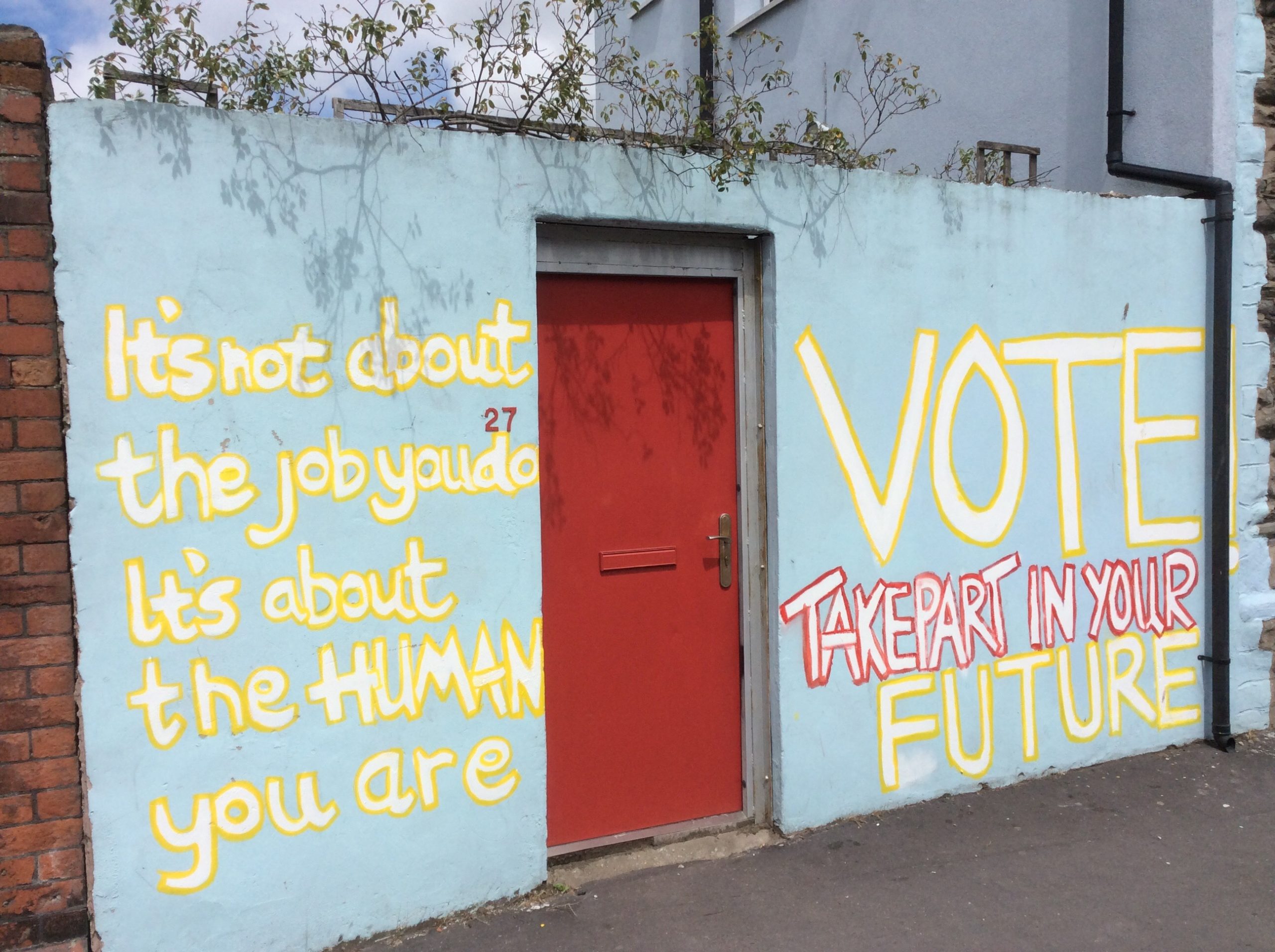 Inksplott: How did you get into this?  Can you please tell us a little about the history of your project and how you became involved?
Pearls of Pearl Street: The first thing I wrote was a big VOTE on the wall just before the election to try and get people involved in their own futures. Then I asked all my friends to give me quotes and poems that inspire them, or that are funny or quirky. On the blog I have asked people to send me things they would like to see on the wall too. Each person I chat too whilst I am painting I ask for ideas as well.
Inksplott: What's your speciality?  Why should people come and see your project or visit your blog?
Pearls of Pearl Street: Luckily people can walk past the wall anytime.  They'll never know what might have changed or what might be on it. People can pop ideas into the letter box in the middle of the red metal door and be part of it too.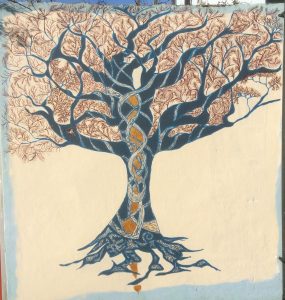 Inksplott: What's your best story since setting up the project?
Pearls of Pearl Street: A local passerby asked me to take a picture of him in front of  the wall. It had a big red heart that said I LOVE SPLOTT !    As I was painting leaves on the tree a lovely lady gave me a piece of cake as she was on her way to visit friends.
Inksplott: Any exciting plans or events on the horizon?
Pearls of Pearl Street: As the weather gets warmer and hopefully less stormy I will be changing the wall more often so you never know what might appear there this year! Any budding artists out there in Splott who'd like to come and paint on the wall please do get in touch (there is a contact form on the blog here: https://thepearlsofpearlstreet.blog/contact/)
Inksplott: How do people find you?  Do you have a website / social media?  How can people interact with the project?
Pearls of Pearl Street:  There is a blog on wordpress you should find us there: https://thepearlsofpearlstreet.blog/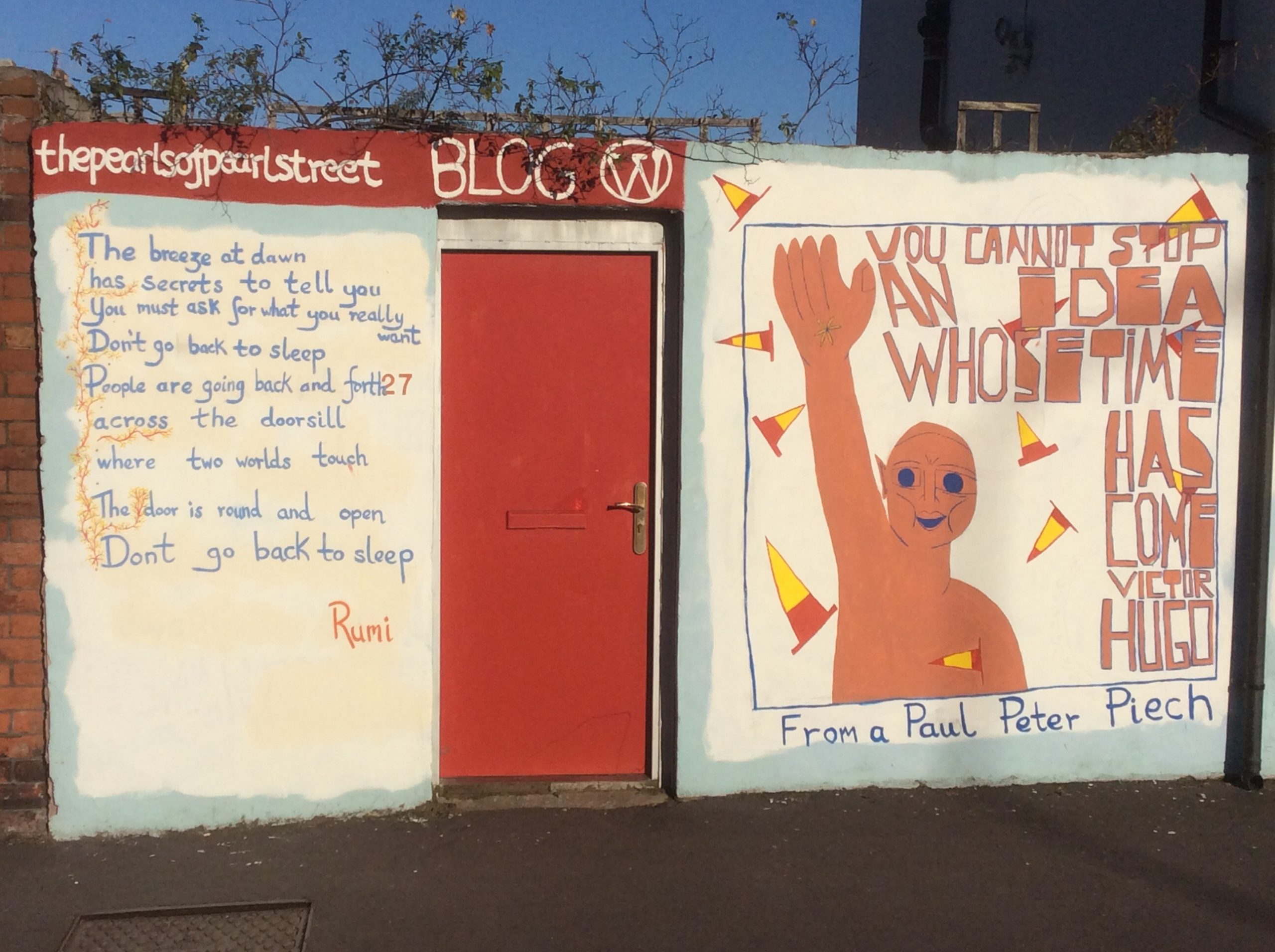 Inksplott: That's great – thank you so much for the interview!
It's so lovely to see something so positive come out of a potentially negative situation.  A massive high five and thank you to The Pearls of Pearl Street for being so damned inspirational!