This week Inksplott caught up with local resident Sarah who has launched a business called Baby Boots which offers massages for infants.
Inksplott: Hi Sarah, thank you for being interviewed for Inksplott.  Can you tell us a little about yourself and your business, Baby Boots- Infant Massage?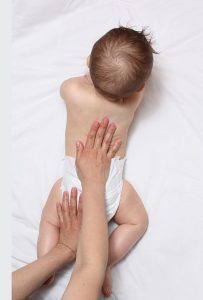 Sarah: Hi!  Yes- Baby massage- or infant massage as it is more formally known- is carried out by a mother, father or carer and involves specific techniques to aid the comfort and development of your baby.  I am a qualified infant massage instructor so it is my job to teach these techniques to parents in order to give them a thorough and in-depth understanding of how to massage their child safely and correctly, and pass on the knowledge that comes with this wonderful skill!
People often ask, why do babies need to be massaged?  Well, there are a number of reasons…  Not only is it great for bonding, it can also aid a number of alignments such as constipation, colic and provide relief from wind pain.  It can provide ease from teething discomfort, can improve weight gain and circulation, and aid relaxation and sleep for your baby.  It can lso be extremely beneficial for mothers who may have suffered any form of PND.  The list goes on!
To cover all the material fully, a course runs for 5 weeks, each week covering a new area of the body and allowing plenty of practice time!  The classes are also great for parents to meet and socialise with other parents in a friendly and relaxed environment.
Inksplott: How did you get into this?  Can you please tell us a little about the history of your business? 
Sarah: Well I actually work within paediatric neuro rehab, working specifically with children who have suffered brain injuries.  The team I work within help children and families through their recovery through a number of weeks intensive therapy input.  I have a specific interest in holistic therapies and massage therapy and felt that pursuing this would be hugely beneficial for so many babies and parents for a number of reasons. 
Inksplott: And how come the business is in Splott? 

Sarah: I live in Splott myself so this is my community- it is great to be able to offer these classes to local families.  The venue I work from is called 'One Fox Lane' (on Broadway in Adamsdown – just off Newport Road), which is a secluded space, off set with its own little garden area which feels like a relaxed hideaway within a city!  It really does have a lovely vibe about it.
Inksplott: What's your speciality?
Sarah: Well, alongside the baby massage classes, I am also trained through 'Calm Kids' to teach children meditation, and makaton signing to aid communication which I also use within my rehab work.
Inksplott: What's your best story since setting up the business? 
Sarah: Perhaps being quizzed on a train when carrying my baby massage demonstration doll.  That was a strange moment!
Inksplott: Tell us a secret or something about Splott that we won't know.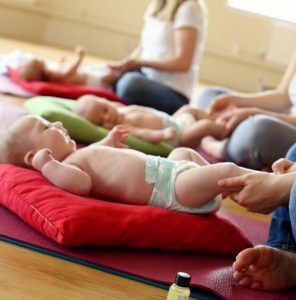 Sarah: That would be telling!
Inksplott: Any exciting plans or events on the horizon?
Sarah: I have just released the dates for the new Baby Boots- Infant Massage classes, starting in January.  I am currently running a special discounted offer on these for a Christmas promotion so if anyone is interested, please get in touch!  
Inksplott: How can people follow you online?  Do you have Facebook, Twitter or a website?
Sarah: Yes- all the details can be found on the Facebook Page: Baby Boots- Infant Massage or email babybootsinfantmassage@mail.com.  Thanks!
Inksplott: That's great – thank you so much for the interview!