On Friday the 5th of August, Catch Seafood Emporium opened its doors for the first time on Clifton Street.  Run by father and son team, Martin and Harrison, the fishmongers is a welcome addition to Adamsdown's thriving high street.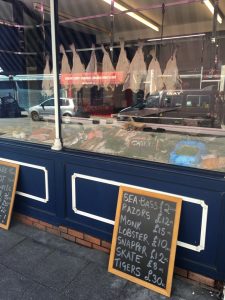 I popped by early this morning to have a nose and found a warm welcome and a shop full of fishy goodies.  There's lots to look at in the window display, including a huge whole cod and some seriously large prawns.
Proprietor, Martin, told Inksplott:
 "We have the full range, from your sea vegetables to whole fish, filleted fish.  We've got snapper, tiger prawns, all the Welsh classics; laverbread, cockles, whelks.  Skate wings.  You name it, it's here."
I asked what was for sale at the cheaper end of the spectrum and was delighted to find decent size sea bass fillets on offer for £2 each (I'll take two, thank you very much).
Intrigued by the laverbread, I found out that it's sold by weight and is popular with gym-goers because of the high iron content (fun fact of the day).  In addition, the shop stocks algae and micro-algae spirulina (classed as a super-supplement) and carotene moss.
When asked why people should visit the shop, Martin was quick to answer:
"Quality, price, location and Harrison!"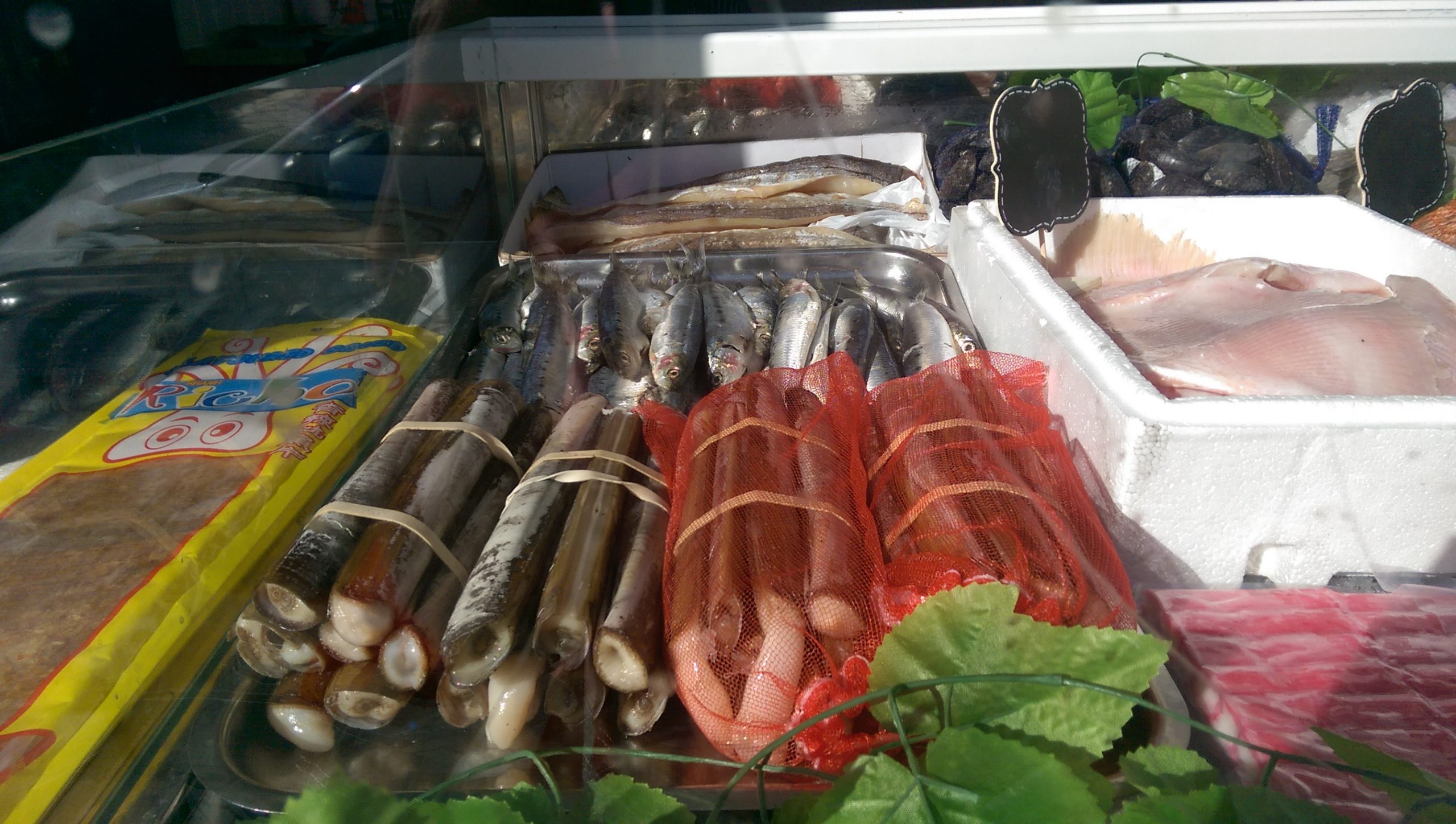 Catch is in the old Todd's butchers and it's satisfying to see that there's another family business in the old building.  The history of the shop was one of the reasons that Martin decided to launch Catch Seafood Emporium in Adamsdown.
"The shop suited what we wanted to do.  It was an old butchers wasn't it?  When a property like this became available I thought, hang on, that's got to have something about it.  This place has a lot of history and then when I came here, this front window display was here and this cabinet and the big fridge and I thought, that'll suit us."

"Supermarkets are not very good at the fish game.  If you notice, I haven't got a lot of salmon.  No rainbow trout; we'll leave that to Morrisons.  We're more niche.  The community here is perfect for what we want to do.  We've got the Portuguese bakery next door, there's the Spanish and the African communities and they eat a lot of fish; they know what they're doing with fish.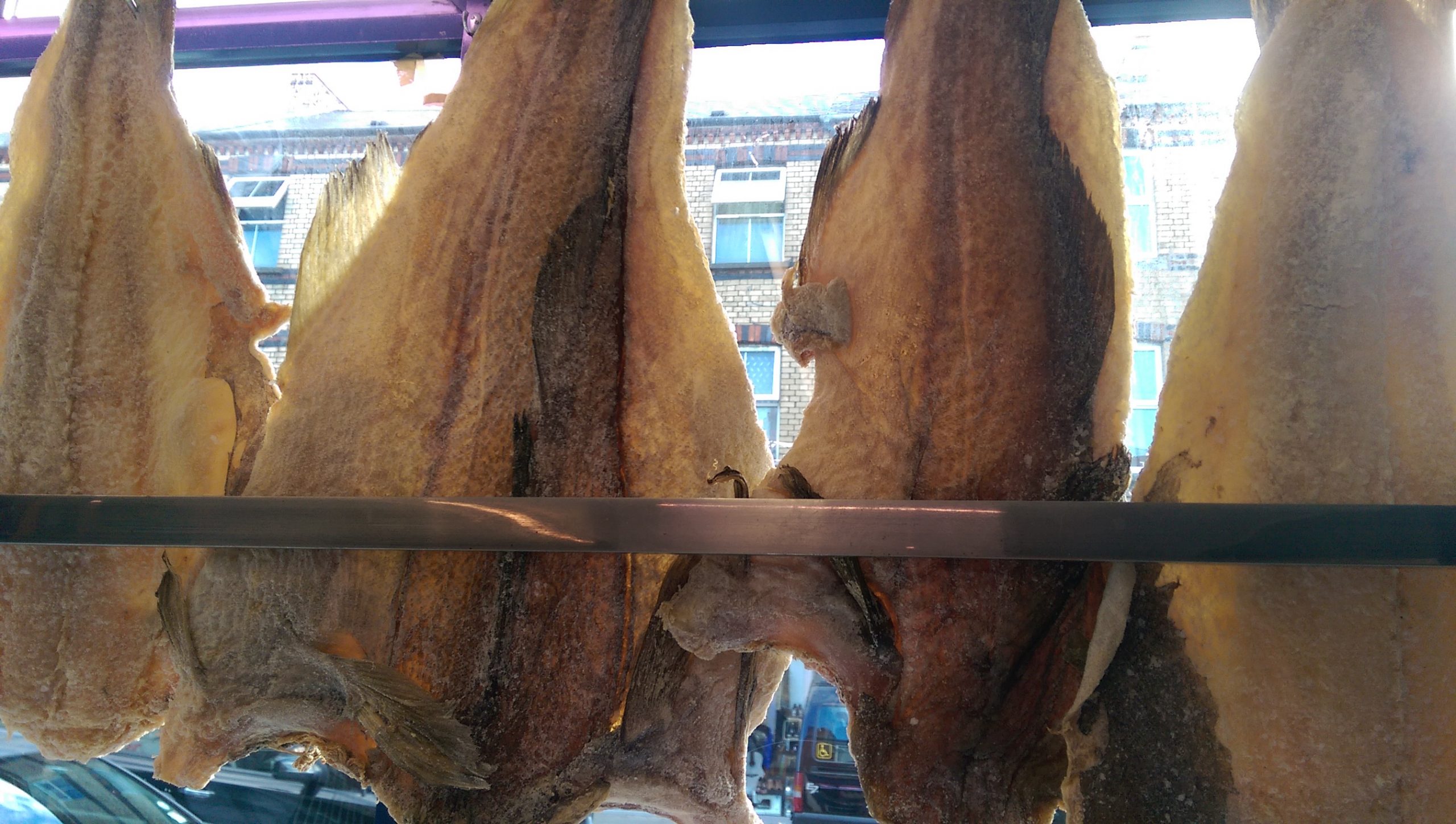 On day two, Martin told Inksplott that trade had been satisfactory but that it was essential to keep the stock moving to make the business a success.
"We've got to get the stock moving daily so that we can keep the variety.  We want people to have confidence in the shop and what we sell.  Yesterday was good; we sold six of the salt cod, which is of the finest quality by the way, so I bought another ten this morning.  It's our biggest seller so far."
The salt cod sells for around £15 a side and needs to be soaked overnight in warm water before being flaked.
Catch has a great variety of fish and seafood for sale:
"The sardines were also popular yesterday.  It's all selling really.  We've also got raised clams, beautiful smoked haddock, skate wings that are local from the Welsh coast, the mussels and cockles are Welsh, we have whelks, monkfish, tiger prawns.  There's a little bit of salmon there for those who want it, snapper, cod, crayfish tails, crevettes, oysters, seaweed, samphire and those bass fillets at two quid each."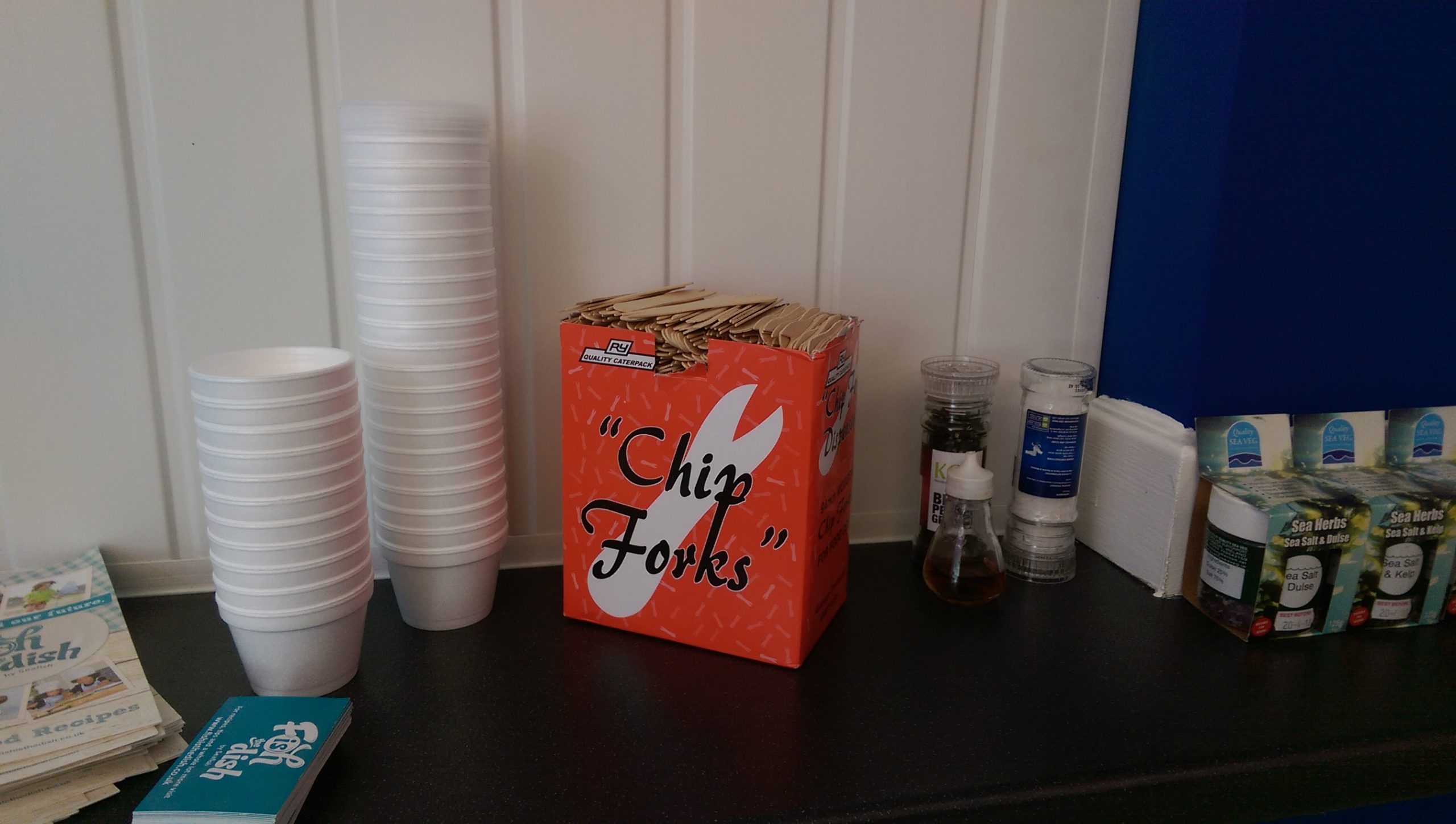 What's really nice about Catch Seafood Emporium is the cockle bar at the side of the shop, where you can take your little pot of cockles, pop on some salt and vinegar, grab a wooden fork and tuck right in.  I had a chat to the lady in Pippins about this and it immediately brought back memories of a local cockle van that used to travel around the area and stop outside pubs, offering the punters a tasty snack.
Martin said:
"That worked really well yesterday.  People were popping in, getting their cockles, going over there and peppering up."
As we were chatting, local resident Dianne called in and told us how pleased she was at the opening of the shop:
"You're open!  It's lovely to see a fish shop down here.  And you've got king prawns!  My boys are going to love it down here.  It's great.  I don't come down here that often, I usually go up Wellfield Road way but now I know you're here with this shop I will definitely come for the fish.  Look at the cod and mackerel!  I'm going to have a field day in here.  This is my place!"
If Dianne's reaction is anything to go by, Martin and Harrison are in for a busy time.
In the end, I couldn't resist buying some sardines as well and went off a happy shopper with two bass fillets and the sardines for six pounds.  I'll be seeing the boys again next week as part of my weekly local shop.
Catch Seafood Emporium is on Instagram (Catch Seafood Emporium) and Twitter (@CatchSeafoodUK) and that a Facebook page is on the way.
For more information on shopping local and what's on offer in Splott and Adamsdown, click here