This week, Inksplott interviews local salon owner, Maria Robinson, about her long-running Splott business, Intense Salon on Carlisle Street.
Inksplott: Hi Maria, thank you for being interviewed for Inksplott.  Can you tell us a bit about the history of your salon?
Maria: I started the business in 1990 with my husband Carl, so we're in our 26th year.  When we first started, it was very much a commercial street, but there are only a couple of businesses left on Carlisle Street, but we're still battling on.
Inksplott:  Can you tell us how come you set up the salon here in the first place?  Why Splott?
Maria: I'm from Splott, Carl was from Grangetown, but we started with our first salon on Splott Road.  Carl had a barber shop there.  Ideally we wanted to buy a property on Splott Road, but in those days, back in the early nineties, the price difference between Splott Road and Carlisle Street, commercially, was huge and we couldn't afford Splott Road so we came here as a second option.  But it's turned out to be a much better option for us, for parking and we just find it a little bit quieter, a little bit better for us.
Inksplott: Can you tell us why people should come to Intense?
Maria: Because we still offer a personal service, our clients are on a much more friendly basis than larger, bigger, less personal salons.  We've been here for a long time so I think that should speak for itself with regards to whether or not we're doing a good job.  We love Splott; we love the community and we just appreciate the support of the Splott people.
Inksplott: Don't forget that you give your customers a cup of tea and a KitKat!
Maria: (Laughs) We certainly do!  We certainly know how to look after our clients because we value them so much.
Inksplott: What would you say is your speciality here?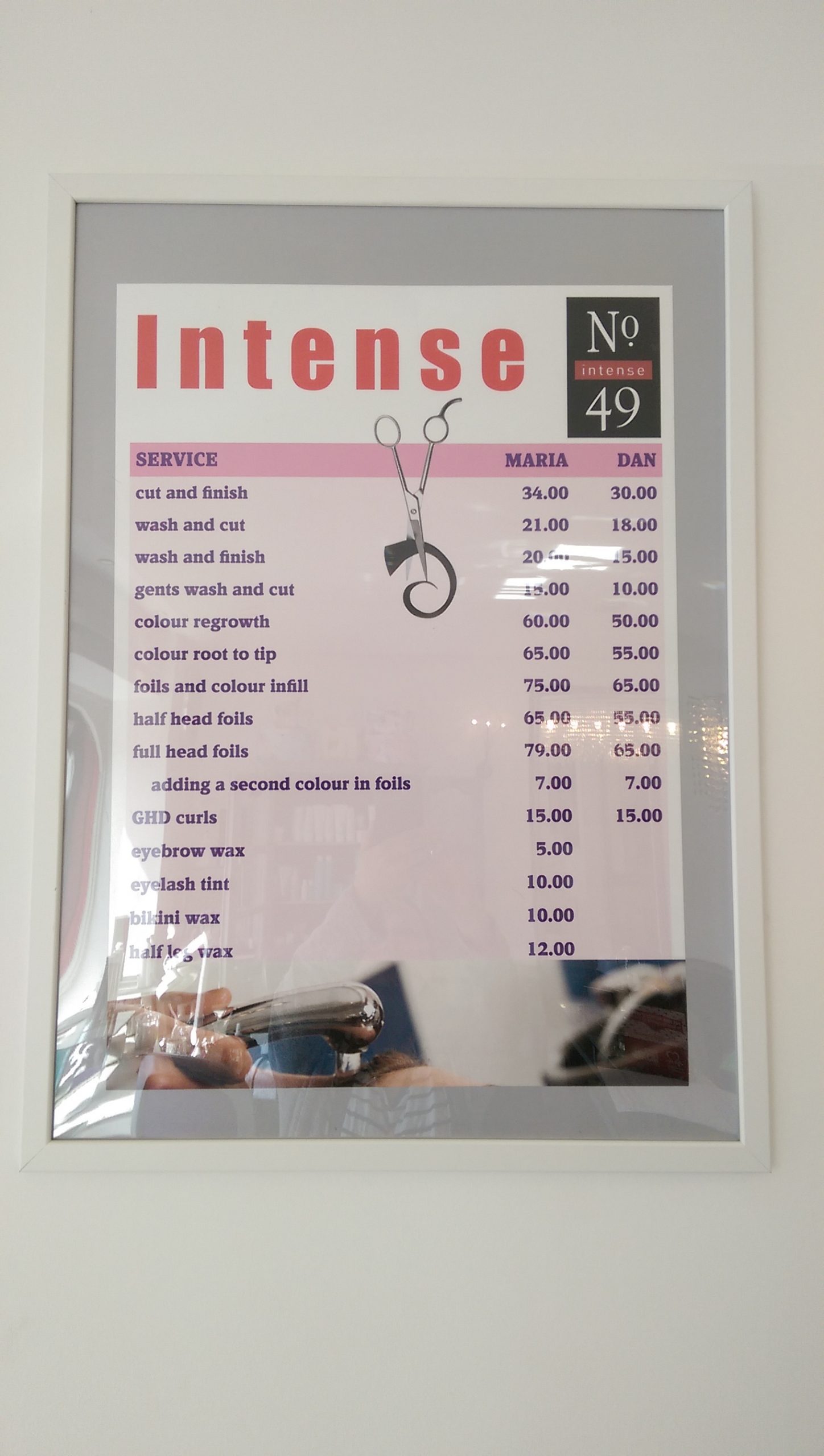 Maria: Gosh, well I like to think that we're kind of good at everything that we do but I think it is down to the personal service.  I think what sets us apart from other salons is, because we've been here so long, we know our clients, our clients know us.  We do offer that little bit extra in terms of customer service, like you say; a nice proper latte or a cappuccino with a KitKat goes a long way to saying 'thank you for coming to us, we really value you and we're going to look after you" and I think that sets us apart from others.
Inksplott: Tell us a secret about Splott or something people might not know about Splott.
Maria: Oh my gosh.  Hmmmm.  I'm sure that everyone from Splott knows everything about Splott because we're that kind of people.  We just involve ourselves in the community.  I'm sure that people new to the area probably won't remember but, when I was a child I used to go shopping with my mum on a Saturday morning in Carlisle Street and, in those days, the children would have to step into the gutter to let people pass because Carlisle Street was absolutely heaving.  The pavements were full of people and the children would step into the gutters to let all the mothers pass with their shopping.  Mothers used to take their children shopping so that everyone carried a bag home!  Can't even imagine that today, now, but every single property here was commercial.  You could buy everything you wanted.  It was so vibrant.
I also remember when Rolfes (the florists on Splott Road) was a pet store and the old man that owned it had rows and rows of wooden drawers full of stuff and pet food.  Lots of people went to him for bird seed and he used to pull out a drawer and scoop out the seed with a little trowel and pop it in a paper bag.
Inksplott: I think I'll have to try and track down a photograph of Carlisle Street of old and see the old shops.  I'd really like to see what Rolfes used to look like too.  One last question – on the price list, it says Maria and Dan.  Who's Dan?
Maria: Danielle is our other stylist.  She's been here going into her third year now and has been hairdressing for six years.  Currently working in the barber shop (Carlcutters http://www.intensehair.co.uk/carlcutters/) as well as managing her own clients in the ladies, so she's a bit of an all-rounder at the moment!  We're still desperately trying to recruit more staff.  We're desperately looking for a young apprentice – if anybody knows anybody out there sixteen to seventeen years of age – and we're also looking for another stylist, so hopefully then Danielle will establish herself in one salon or the other, depending who we recruit.  But Danielle has a strong clientele herself, so she still has to run between the barbers and managing her column in the ladies part.
Inksplott: Well thank you very much, that was a fantastic interview!
You can find Intense is at 49 Carlisle Street, Splott.  Or you can ring for an appointment on 02920 462865 or email appointments@intensehair.co.uk
To find out more, visit their website: http://www.intensehair.co.uk/ and to keep up with news, why not like their Facebook page: https://www.facebook.com/intensehair/