This week, Inksplott talks to Craig Truman, founder of football club Splott Albion Minis.
After realising that some kids were missing out because they couldn't afford the registration fees at surrounding football clubs, Craig set up Splott Albion Minis as a donations only club, with the donation set at £1 to provide football training for children and young people in the Splott, Adamsdown and Tremorfa areas that was affordable.
The club practices on Splott Park most days of the week and anyone is open to go along and take part.  The youngest players are five years old, playing for the under 7s.
Craig told Inksplott "As soon as there are enough kids and a coach, we register them and start training.  They're playing pretty quick – we don't want to wait that long."
Children are registered with South Wales FA and play against other clubs from all across Cardiff, like the Canton Rangers and clubs from Ely and Fairwater, sometimes at home and sometimes away.  All coaches are registered and DBS checked and have badges for coaching.
Around thirty local residents run the club;
a far cry from the two parents and one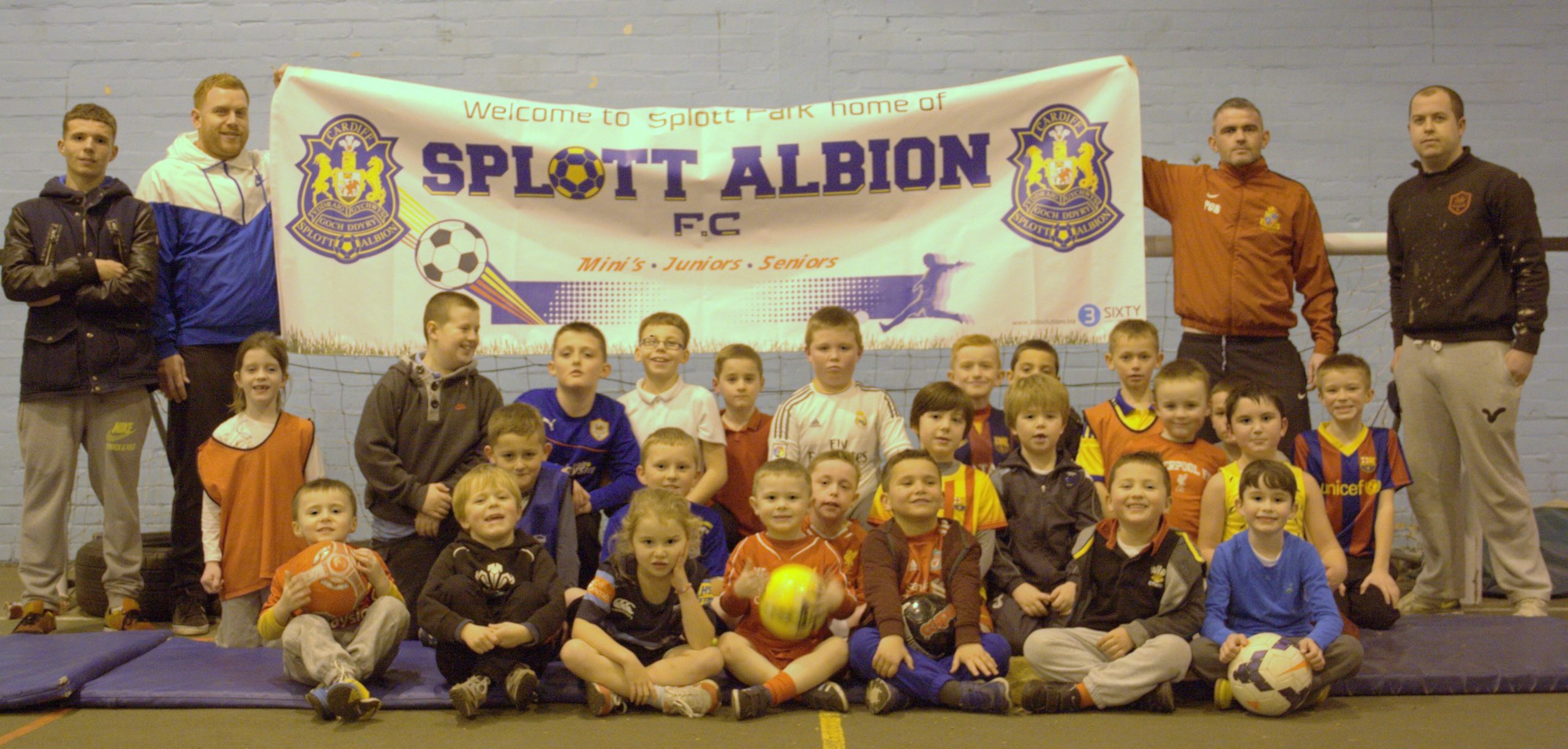 team back at the dawn of Splott Minis.  Carly Ellaway, Club Secretary, has been a big part of the development of Splott Albion Minis alongside Craig.
Craig explained to Inksplott: "The first team was registered in October 2014, half way through the season (under 10s) they started really well and grew from there."
The club has made great progress in its first year with two additional small pitches being installed at Splott Park to cope with the additional numbers, allowing for more teams to play at home at the same time.
Craig said: "It's been a lot of hard work and now it's starting to pay off.  The kids are doing well and we recently set up a ladies' team.  We've just finished first season on a really good high and are doing really well.  The coaches do an awful lot – if we didn't have the coaches we wouldn't have the club.  We have over 130 kids registered right now.  We grew that big in just over a year!  We surprised everybody.  We were running out of coaches until parents chipped in and took on some of the training".
The ladies' team starts from the age of 16 with no upper cap – anyone can join as long as they are fit and active.  Anyone interested should contact Jordan Barrett at the club.
The club is also looking for more coaches to cope with the increase in player numbers.
Craig said: "It's all about being out there playing football, keeping fit and active and being a good boy or girl (there are plenty of girls on the team).  We're trying to promote fitness.  We have mixed sides with the little ones and it's open to everybody.  Our policy is to not turn anybody away or close the books and say we're full.  We won't turn kids away; it's not nice for the children.  If there's a team there, join in with them."
Sponsorship support has come from CCHA, Admiral, Tremorfa Motors, Clifton Fish Bar and many more local businesses.  The money is used to buy kit and equipment for all the teams and Craig explained why the sponsors are so important.
"It's a new season now and winter training is so expensive.  We need sponsorship to get through the winter and provide all the equipment.  In the beginning we all put our own money in to get it started but we'd like to get some backers that are there all the time.  We ask for the minimum from the sponsors – just for the price of a kit which allows a team to play all in the same kit and have the company logo."
A full kit of 15 with shorts, socks, top with clip badge, club name and number costs around £350.
Craig said: "We wanted all of the sides in the same kit by the end of the season and managed to do it – unbelievable!  12 football sides all in the same kit.  Even the league is impressed with how quick we could turn it round, do it and be up there with the big clubs.  W'e've been accredited, which means we're classed by the league as a 'big club'.  We had a bronze accreditation within one year and are over the moon with that."
The club has also raised money to take children on day trips and adventures, like climbing Pen-y-Fan and taking the children to the ESF festival in Bognor Regis.
Craig told Inksplott: "The Pen-y-Fan sponsored walk was with 30-odd kids and the weather was horrendous! You couldn't see twenty yards in front of you and they all still did it.  The kids didn't want to give up got all the way to the top, even though it was lashing with rain, hail, all sorts.  We're taking 40 kids to the ESF festival in Bognor Regis in May and the club has managed to raise all the money for the coach and the accommodation.  I did it with my youngest and he still talks about it today, four years later.  That sort of experience will never leave them.  They go away as a football side, play really well and come away successful from an English league.  There's something about going away together and coming back as a real team."
Craig has recently spoken to Splott Phoenix Bowls Club about using the changing rooms in the Bowls Pavilion in Splott Park and turning it into a community amateur sports club.  Instead of just football, the club would provide football, bowls, baseball for all ages.  It's early stages just yet, but Craig is ambitious and keen to see a better sports provision in the area.
"I'd like to get an all-weather pitch in place – it would look fantastic for the area.  As everyone knows, Splott and Tremorfa are considered quite deprived areas but we are pushing for them to be better and to have better facilities.  The STAR centre is going – everything is reducing – but if we can have Splott Park as our sports venue it's a bonus for the area and a credit to the area."
Craig told Inksplott that the club has had a great reception from local people.
"A lady from Larkum's funeral home in Splott on Carlisle Street was out walking her dogs and saw the kids training and she gave us a £100 cheque to put towards some equipment.  She had seen how quickly the club has and what it's grown into and said that she was over the moon at how well we're using the park.  I'm over there every week, picking up litter.  Not everyone picks their rubbish up – I go round and collect it myself.  Somebody's got to do it.  I know that we're keeping the park clean."
And some final words from Craig:
"My wife says that all I think about is that kids' football club, but that is what it's about.  It's what I strived to set up and what I wanted to do.  It's been a lot of hard work and stress but now we've got there.  Now it's about watching the kids play footballs and enjoying it.  Some have made it to Cardiff trials – who knows, we may have the next Craig Bellamy or Gareth Bale!"
Favourite saying of the players: #VivaLaSplott!
You can find Splott Albion Minis on Twitter @SplottAlbMinis and on Facebook https://www.facebook.com/profile.php?id=100008940371259&fref=ts and most weeknights, weather permitting, training on Splott Park from 5pm
The Splott Albion Minis clubhouse is at the back of Pengham Moors Social Club, otherwise known as 'The Shed', and someone from the club is there most days.