Here's yesterday's COVID-19 update from Cardiff Council: a second hotel opens to help the homeless self-isolate through the outbreak, refinements to the new weekly waste collections, Cardiff shows its appreciation for our waste crews, the latest on schools, and social distancing in our allotments. 
Extra homeless provision for city's most vulnerable
Plans are revealed to take on a further hotel to increase provision for homeless individuals during the Coronavirus crisis.
Cardiff Council announced last week that it had secured additional accommodation at the OYO Hotel on Clare Street in Riverside, for rough sleepers and those living in emergency accommodation, where individuals sleep in shared spaces and self-isolation is not possible.
The aim of the additional accommodation was to ensure that any individuals with underlying health conditions, or who are showing symptoms of Coronavirus COVID-19, will be able to self-isolate.
All 41 bedrooms in the OYO hotel are now occupied. Residents receive three meals a day and support staff are available around the clock to ensure the provision is safe and appropriate advice and help is always available.
This self-contained accommodation, as well as the two newly completed shipping container schemes in Ely and Butetown, is part of a raft of new provision being brought on line by Cardiff Council to provide extra support to vulnerable people.
The Council announced that a second hotel, providing 89 beds, will open today to provide more individuals with a safe and secure place to self-isolate and recover. As with the OYO Hotel and shipping container accommodation, theYHA Cardiff Central hostel building in Tyndall Street Splott, will have support staff on site 24-hours a day.
Read more here:https://www.cardiffnewsroom.co.uk/releases/c25/23521.html
Refining the new weekly waste collections
Monday 30th March, Cardiff Council introduced a completely new schedule for collecting waste and recycling (full details available to read here: https://www.cardiffnewsroom.co.uk/releases/c25/23490.html). 
Normally, a change in service as big as this would be months in the planning with lots of communication from the council in the weeks leading up to roll-out. But in this time of COVID-19 crisis, the council is having to move quickly to help keep the public and staff as safe as possible, and this does mean that further changes are always likely to be needed as collection arrangements are refined and tested.
After yesterday's collections, the council has reminded people to make sure that their waste and recycling is put out by 6am on the day of collection. This is because our crews could be collecting at a different time than normal in some areas, and people have understandably got in to the habit over the years of putting their bins out at a certain time, because they knew they normally would have been collected late morning, or in the afternoon etc.
We have also had to change the arrangements for garden waste. Originally we said that residents could put small amounts into black bins/red striped bags, but we've had to change this as it runs the risk of larger amounts of garden waste being put out.
Our Energy from Waste contractor has confirmed that large amounts of garden waste would cause significant operational issues, and increase the time it takes to process the waste.
With that in mind, we are now sharing the following information:
Unfortunately, due to the prioritisation of resources we have temporarily SUSPENDED all garden waste collections. However, this doesn't mean you should stop enjoying the garden. You have a number of options for dealing with your garden waste.
The most environmentally-friendly way of dealing with grass cuttings, hedge trimmings etc. is to home compost. This can be as simple as putting all your cuttings in a neat pile in a quiet corner of the garden. Mix with small amounts of paper, cardboard and kitchen food waste peelings to create a pile that will break down within a few weeks to create great compost that can be reused in the garden. Alternatively, keep your garden waste in storage in your green bin/re-useable sacks.
This updated graphic has been released which includes the recent changes made as the collection arrangements are refined. Please feel free to share this: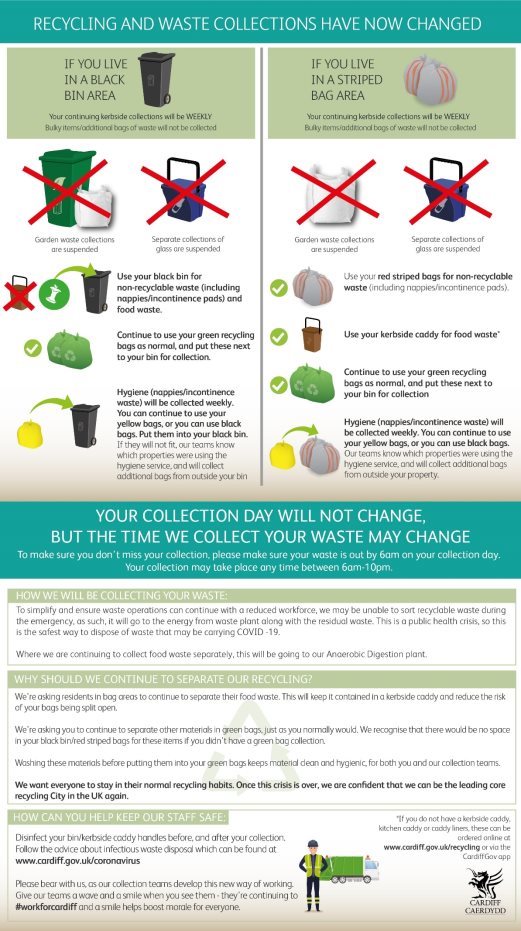 Residents show their appreciation to the waste collection crews
Parents and children have started sending personal messages to their waste collection crews by attaching pictures and messages to their green recycling bags and black wheeled bins.
Yesterday (March 30), residents living in Pentyrch, Radyr, Fairwater and Creigiau have attached morale boosting pictures and captions to their bins and waste bags – many with the simplest but most welcome message 'thank you'.
During the public health crisis – with the exception of garden waste – Cardiff Council has moved to weekly kerbside collections. This is to ensure that there isn't a build-up of waste on the city's streets.
Cllr Michael Michael, Cabinet Member for Clean Streets, Recycling and the Environment, said: "With this ongoing pandemic, our waste crews are doing their best in very challenging conditions.
"At a time like this, keeping morale high in our workforce is very important and the crews are very grateful indeed for the messages that they have received. It's just fantastic to see children and probably a few adults too leaving messages for the crews to show their appreciation.
"The Council aims to carry on delivering essential services to residents during the outbreak. But to do that we need residents to follow the instructions which have been given on how they should present their waste.
"We've moved to a single weekly collection for everything but garden waste. The energy from waste plant can't accept it.
"I know some residents will have questions on how things are working and answers to many of those are available here
"Crucially, the Council is also diverting crews so that we can concentrate on removing NHS waste throughout the emergency. With news that the Principality Stadium is also being turned into a hospital, the Council is preparing plans on how we will service this new facility. We are doing all that we can with the stretched resources available. This is why we need people to work with us and understand why we have had to suspend garden waste collections. And had to change the way we are dealing with waste for now. We will return things to normal as soon as we can.
"It's also important people continue to recycle and use their green bags for this. We will be returning to a normal recycling process as soon as we can and it's important we don't break the habit of recycling correctly. Cardiff is one of the best recycling cities in the world and we want to be the best in the world.
"By working together we can all play a part in ensuring that waste is removed from the city's streets safely and as quickly as possible."
Key worker child support
Today we have processed a further 100 applications for priority key worker childcare places, to begin on Wednesday 1stApril.
We are receiving a high number of applications and aim to offer more places as soon as possible.
For more information or to register please go to;https://www.cardiff.gov.uk/ENG/Your-Council/Strategies-plans-and-policies/Emergency-Planning-and-Resilience/coronavirus-information/key-worker-childcare/Pages/default.aspx
Any family that took up a childcare place at their local school last week will continue to be offered a place at their designated location.
Social Distancing Arrangements for Allotments
Cardiff's allotments can still be used during the ongoing COVID-19 outbreak, but in line with government advice, new guidance has been introduced to ensure they are used safely.
If you are self-isolating, do not enter the site.
Limit visits to 1 hour a day, in line with daily exercise recommendations.
Observe social distancing with each other, keep 2 metres apart and minimise contact with each other.
Visit alone – do not bring family and friends.
Keep hand sanitiser with you and use it regularly, particularly before and after opening and closing gates and handling padlocks.
Wear disposable gloves and change these regularly.
Do not share tools. Wipe your own tools down after use.
Do not wash your hands in water troughs.
Stay on your own plot, do not enter other plots, even if you have had prior permission
With immediate effect all communal facilities are closed, including toilets.