Cardiff Council rejects plans for a green community hub for Splott & Adamsdown
Cardiff Council has decided to sell a former public park in Splott for commercial development, despite local community plans for a creative community hub and green space.
Green City Events says that the Council is trying to put a stop to this much needed local resource and is urging people of Cardiff to get behind their campaign to reverse the decision and secure the land for community use.
Local organisation Green City Events have been working to secure this land for a community led project since 2015. In February this year they submitted a thorough proposal, complete with impact assessments and financial forecasts, showing that they have the ability to make this project sustainable and provide much needed benefits to this deprived area of Cardiff. After being given years of false hope they have now been told that this land is not to be made available for community use due to the development & commercial potential associated with the site.
Green City Events is now rallying support from the local community to petition the Council to reverse their decision and put people above profit. Their campaign has gained over 2,000 supporters within just 3 days and the hundreds of comments made by local residents make it clear that the people in this area are angry and upset with the Council's decision.
Later this week Green City Events director Rebecca Clark will be meeting with Cabinet member for Investment and Development, Russell Goodway and Director of economic development, Neil Hanratty to discuss the decision with the hope to reverse it and reclaim this land for the community. Rebecca will be supported by all the local ward Councillors as well as the Community Land Advisory Service Cymru.
Rebecca Clark, director of Green City Events says:
'We are upset and angry that after giving us years of false hope Cardiff Council are, without a reasonable explanation denying our community use of this land. Why would the Council choose not to support a project that will have such positive social, environmental and economic benefits to the deprived wards of Adamsdown and Splott? We have the support of local organisations, Councillors, and individuals. We do not believe that the Council's decision making process has been fair, democratic or transparent. We want this decision reversed.'
The land
The land is alongside the railway line in Splott – it runs parallel to Railway Street and access is via the end of Adeline Street.
The site was originally owned by Network Rail who gifted it to Cardiff Council in the nineties. The council used it for a small public park with play equipment but it was closed down due to anti-social behaviour and sat derelict for 10 – 15 years. In 2016 Network Rail cleared the land and used it as their base of operations during the work on Splott Road Bridge.
Network Rail and Carillion were highly supportive of the proposal to use the land for the local community and left certain infrastructure elements in place that would be very useful if our proposed develop of the site goes ahead.
The proposed project
Green City Events wants to regenerate this site to create a community hub and green space where people can learn, play, share, and connect.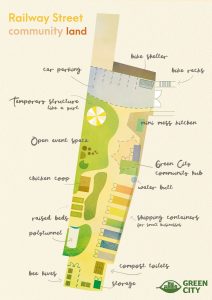 There are four key elements to the project:
a set of small shipping container studios for local businesses and social enterprises, bringing new economic opportunities to our area and allowing local people to run their small business close to home. Rent from these spaces will help support other community activity.
a community hub with kitchen facilities, classroom space, and a covered outdoor area. This will provide a home for Green City's current community activities as well as providing space for local community groups and residents. This hub will be a space for meetings, socials, workshops and training, local business events, supper clubs, community meals, school groups and lots more.
a community green space. Based on feedback from our community consultation we would expect this to include food growing in raised beds, a forest garden with fruit and nut trees, a wild play area with living willow structures, and wildlife areas. Each of these elements will be co-designed with local people, schools, and groups.
community led projects and services. This could include chicken or bee-keeping, a bike repair workshop, a community fridge, seed bank or tool library, local festivals and much more.
According to the 2014 Welsh Index of Multiple Deprivation, Splott and Adamsdown are among the most deprived areas in Wales.  The Cardiff Open Space survey also shows that both wards have a deficit of open space by 19.5% (Adamsdown) and 12.6% (Splott) when compared to the standard recreational open space requirement.
Both areas have lost access to training, support, and opportunities for social integration following the end of funding for Communities First earlier in 2018.  The Edible Adamsdown group have also lost their well-loved and well-cared for community garden when the Communities First Resource Centre closed.
Adamsdown residents lost yet more of their little remaining green space when Howard Gardens was sold off to build a third block of student flats in the ward.
Parks and play areas are badly affected by litter, anti-social behaviour, and a lack of investment in play equipment and facilities.  On top of this, residents have tolerated significant noise, traffic, and disruption for several years during the work on the bridges.
Based on feedback given through the petition this week, it's clear what the community wants:
Comments from the community:
'It is so important to provide valuable green spaces for the community, especially in places like Splott and Adamsdown where they have suffered so much from neglect of community spaces and prioritization for developments. Please do the right thing Cardiff council. Prioritise your people.'
'Unless this decision is reversed, Cardiff Council will be failing the citizens of this city by depriving residents of that which they need and have clearly called for. Furthermore, the duty on local authorities to consider the Well being of Future generations act in all of its decisions is being flagrantly disregarded here.'
'Green space for growing, playing, learning is essential for well being. It will save money in the longer term and support the residents of very deprived areas.'
'With Viridor so close this area arguably needs more green spaces than the rest of the city, not less. Green City have set out a sustainable and exciting plan for the space, Cardiff Council should be grateful that they have an engaged, ambitious team working with the community. We can have a wonderful, thriving city. The council needs to listen.'
'This would be such a backward step – and seems to be in direct conflict with so many stated objectives; including healthy city status and reducing pollution!'
'Splott and Adamsdown are in desperate need of community spaces and green spaces – not more flats and buildings in an area that is already jam packed with buildings! It's a shame that Cardiff council are overlooking a wonderful project for this area in favour of building developments. This city has been inundated with student accommodation, most of which still remains empty.'
'Green spaces help mental health, help to counter balance structures that are detrimental to the environment, such as the waste incinerator and bring communities together indirectly leading to a decrease in anti social behaviour and an increase in resident area pride and involuntary active citizenship!'
'Splott and Adamsdown need this. The long-term benefit of this project would outstrip any "profit" generated by flats.'
How you can help:
You can show your support for the project and help Rebecca and Green City Events reverse the decision and secure the land for community use by signing the petition here change.org petition.
For more information, visit the campaign page.
Green City Events is a not for profit Community Interest company (CIC), operating in Cardiff and South Wales. For the past six years Green City Events has been working across Cardiff to offer an accessible and inclusive approach to sustainability engagement. During that time we have delivered a wide programme of successful workshops and community-led events and developed strong links with local communities and other organisations.
Our work aims to help build strong, more connected and resilient communities that have an awareness and respect for both their local and global environment. We aim to work directly with communities in order to respond to their needs and create sustainable community led activity with a long term positive impact. Two of our directors, Rebecca Clark and Hannah Garcia, live on Railway Street in Splott and we've both lived in both Adamsdown in the past. We love this area and want to see it getting better and better.