There are four schools between Splott and Tremorfa and it's about time they had some Inksplott attention!  In a bid to get to know more about our local educational establishments, their staff, pupils, achievements and upcoming events, Inksplott will be running a series on local schools, starting with an interview with the Head of Ysgol Glan Morfa, Mr. Meilir Tomos:
Inksplott: Hi Meilir, thank you for being interviewed for Inksplott.  Croeso i Incsblot! Can you tell us a little about yourself and your school? What was your journey to your current position? 
Meilir: I'm originally from North West Wales from a small seaside village called Trefor which is on the Llyn Peninsula.  After finishing school I attended Trinity College Carmarthen where I completed my BA in Education. Following University I moved to Cardiff and took up my first teaching post at Ysgol Evan James, Pontypridd where I was very fortunate to work under the guidance of the Headteacher at the time Mr Wil Morus Jones who became my mentor. I was there for 6 years before moving to Ysgol Pen-y-Garth, Penarth in 2008.  In April 2013 I was appointed Deputy Headteacher in Ysgol Gymraeg Bronllwyn in the Rhondda Valleys where I spent 3 happy years and learnt a great deal about management of schools. In October 2016 I was appointed Headteacher of Ysgol Glan Morfa here in Splott and started in my role in January 17th following two weeks of Paternity leave!
Inksplott: What's the history of your school?  Can you tell us a little about that?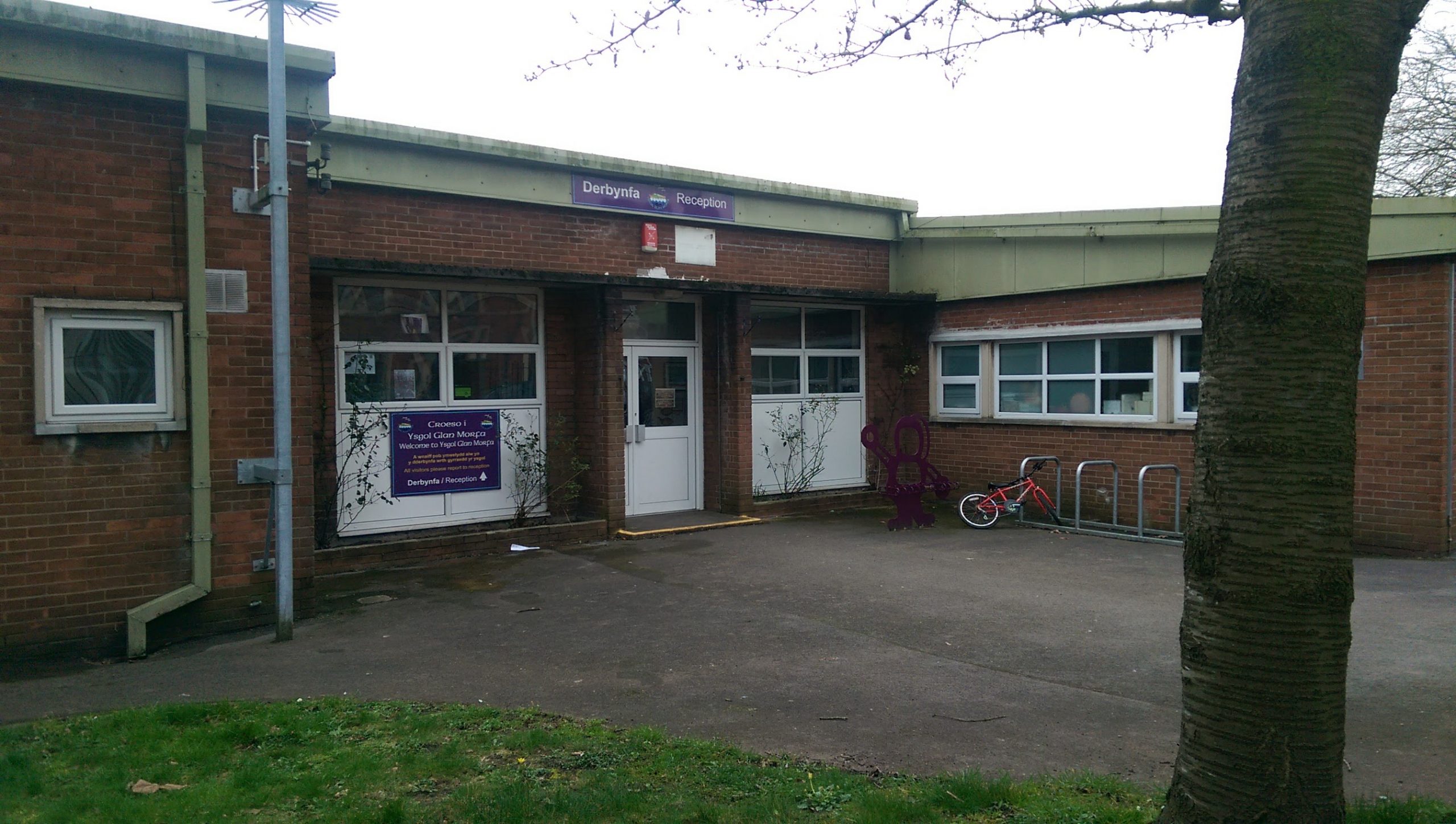 Meilir: Ysgol Glan Morfa was established in 2005 as the first Welsh Medium Education School in Splott.  It celebrated its 10 year birthday back in 2015. Like most of the Welsh medium schools in Cardiff this school started with a single nursery class and today the school has currently 212 pupils.
Inksplott: What's special about your school?
Meilir: First of all we are the only Welsh medium school in Splott and we are fiercely proud of that.  We are a very caring school where the wellbeing of children comes first.  We are also a community school and we strive to take part in as many community activities as is possible.  We are one big happy family and our children are polite, happy and respectful and I believe that comes across when you visit our school.
Inksplott: Are there any achievements that you, your teachers or your pupils have achieved that you're really proud of?
Meilir: In January 2017 we received an Estyn Inspection which we were all very happy with the outcome.  We are also very proud of the many interventions that we offer our children to ensure that all children have the best possible education and that every child succeeds no matter their background.  Last month we took part in the Big Welsh Superhero Challenge and we managed to raise £2301 towards Noah's Ark Charity in the Children's Hospital of Wales.  This delighted me and my staff as it shows the caring children and families we have here in Ysgol Glan Morfa.
Inksplott: Any exciting plans or events on the horizon?
Meilir: In September 2018 the school will be moving to a brand new 7.8 million pound school in Splott just opposite the Maltings building.  This is a very exciting event for Splott and also to Welsh medium education in Cardiff.
*for more information on the expansion of Ysgol Glan Morfa, click on the links:
Council planning committee to discuss plans for new Welsh medium primary school
£6.86 million plan for Splott schools: Moorland Primary to expand, Ysgol Glan Morfa to move to Maltings Park
Inksplott: Tell us a secret or something about Splott that we won't know!
Meilir: Ysgol Glan Morfa is the best Welsh Medium School in Splott!
Inksplott: That's great – thank you so much for the interview! Diolch yn fawr am y cyfweliad!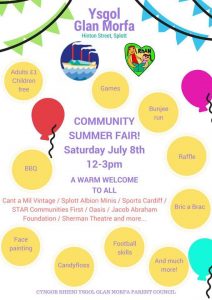 Ysgol Glan Morfa's community fair is Saturday 8th June between 12noon and 3pm and is open to all, whether you speak Welsh or not, so if yu want to find out more about the school, pick up some balloons and brick-a-brack, get your face painted and find out what bunjee running is, pop along!
Fun facts about Ysgol Glan Morfa:
There are currently 212 pupils attending ysgol Glan Morfa
Radio Cymru DJ Mark Griffiths pops into the school on Tuesdays to co-produce a half an hour Welsh language radio show with year 6. You can listen to the show by clicking on the link 
The Glan Morfa Language Charter (Siarter Iaith) was launched on Wednesday the 28th of June. Find out more here
These are the school values: Honesty, Respect, Manners, Sharing, Pride/Self-Esteem, Caring, Co-operation, Communication, Kindness, Teamwork, Love, Self-Discipline, Helpfulness, Truth, Open Mindedness/Tolerance, Friendliness, Listening, Responsibility, Understanding, Perserverance, Diversity and Trust.
You can also find out more on their website