A group of musical volunteers in Splott are launching a singing group for girls aged 10-16 aiming to offer a positive, empowering and creative space for girls to enjoy music and to make friends.  It's free and sounds fab, so if you know of a local young lady who would like to take part, read on for more information.
Inksplott: Hi Rachel, thank you for being interviewed for Inksplott.  Can you tell us a little about yourself and your group?
Rachel: My name is Rachel Buckley and along with my friends Tina Reece and Rosie McBride we have decided to start a singing group for girls aged 10-16 called #SHARP.
Inksplott: How did you get into this?  Can you please tell us a little about the history of your group and how you became involved?
Rachel: I (Rachel) have a music degree from the Royal Welsh College of Music and Drama and have been a working musician for about 7 years. I met Tina and Rosie through a baby group at the STAR hub at the beginning of the year, as we all have daughters aged between 9 months and a year old.  Tina's work is in the charitable sector and she currently works for Welsh Women's Aid. Her experience in organising projects and her connections to people and organisations that have helped and continue to help us get organised, have been invaluable. Rosie and Tina both have musical skills and experience and Rosie has loads of experience with children, so when I came to them with the idea for an empowering singing group for girls, it was a perfect fit!
They were both really supportive and together we have managed to get it set up and ready to go!
Inksplott: And how come the group is (performing) in Splott?  Are you locals?
Rachel: All three of us live locally. We all moved to Splott at a very similar time about 3 years ago and were welcomed into a very friendly community. For me personally, this sense of belonging has only strengthened since the birth of my daughter and all 3 of us take advantage of the great offerings for families in Splott including rhyme times at the library, the parent and baby group at the Salvation Army hall and of course the excellent soft play at the Oasis centre on a Saturday morning.
We feel strongly that we would like to give back to the community and hopefully this group will provide lots of local girls with somewhere fun and supportive to come and form friendships and enjoy music together.
Inksplott: What do you think of the music scene around here?  How would you like to see it develop?
Rachel: To be totally honest I don't know much about the music scene in Splott. I am aware of nights at The Cottage pub, and it is great that they are happening. My husband took our daughter to a music night at the Oasis centre a couple of months ago and they both thoroughly enjoyed themselves there. I always think there's room for more music in everyone's life though so it'd be great to see more being offered – maybe regular family friendly events would be nice.
Inksplott: What's your speciality?  Why should people come and take part in your group?
Rachel: We are looking for 10-16 year old girls to join us.  Our focus is singing songs that are fun, current and have a positive and inspiring message for women and girls.  If you are looking for something fun and creative to do with your Monday afternoon, come along and be ready for body percussion, singing in harmonies and conversations about the underlying messages in your favourite songs. Repertoire ideas currently include: Katy Perry, Alicia Keys,  Taylor Swift and Little Mix.  And it's free! So there's no reason to not give it a go!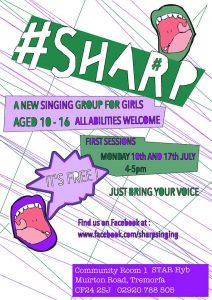 Inksplott: Any exciting plans or events on the horizon?
Rachel: Our first session! On Monday 10th July at 4pm. Community room 1, STAR Hub.
Inksplott: That's great – thank you so much for the interview!
Isn't it simply superb that Splottlanders like this exist?  Creating free events for local young people.  What a cracking community we live in!  Thank you Rachel, Tina and Rosie.  I wish you the best of luck with your #SHARP.
To find out more about #SHARP and keep up with what's going on, follow them on Facebook