Storm Eunice Met Office Red Warning – The impact on Cardiff Council Services and Planning and Preparation
The Met Office has announced a Red Warning for Wind, from 7am to 12 midday, on Friday 18th February, covering coastal areas of the south-west of the UK, including Cardiff.
Due to the severity of the storm, the Met Office has warned of danger to life from flying debris; damage to buildings; disruption to transport; fallen trees likely; power cuts; and large waves on sea fronts.
The public advice is to consider if journeys are necessary, and to make preparations.
In order to help protect the public and our workforce, and to try to keep the disruption caused by Storm Eunice to a minimum, Cardiff Council's emergency management arrangements have been stepped up, and the following changes to services for tomorrow have been made. Plans are also in place in order to be prepared to respond to the predicted disruption. Further updates will be provided as necessary.
Service Changes
Schools – All schools in Cardiff will be closed on Friday, 18th February, due to the predicted disruption to transport and the warning of potential damage to buildings.
Waste & Recycling Collections – Friday, 18th February collections have been suspended, with general waste and food waste collections to take place in the areas affected on Saturday through to Monday. Residents are asked to present their recycling on their next Friday, 25th February. Update: Residents in the recycling trial will have a collection on Saturday. In order to reduce the risk of flying debris, no items should be put out for collection tomorrow
Household Recycling Centres – Both Lamby Way and Bessemer Close centres will be closed on Friday, 18th February. Residents who have a Friday booking can access the centres on Saturday and Sunday
Bulky Items Collections – Bulky items will not be collected. Residents with a booking for Friday, 18th February are asked to put out the bulky items they have for collection after Storm Eunice has passed. The team will programme them in for collection over the next week.In order to reduce the risk of flying debris, no items should be put out for collection tomorrow
Planning and Preparation
Highways – Teams are on standby to deal with emergency calls relating to road closures and any potential flooding.
Fallen Trees – Staff have been mobilised and are on standby to respond to call outs to clear fallen trees.
Street Cleansing – Cardiff Council Cleansing Services has moved to a reactive position, ready for deployment where needed as part of any clean-up operation once Storm Eunice has passed.
Damage to Council Buildings – Contractors will be on call over the weekend to respond to any damage to Council buildings
Royal Mail suspends service
Splott Postman, Ryan Davenport, took to Twitter to inform residents that there would be no post on Friday due to the weather warning:
People of Splott, just a heads up @RoyalMail have decided to suspend deliveries for 1 day tomorrow due to the Red warning for up to 100mph winds, if you are expecting any parcels or letters they will be delivered on Saturday. Stay safe all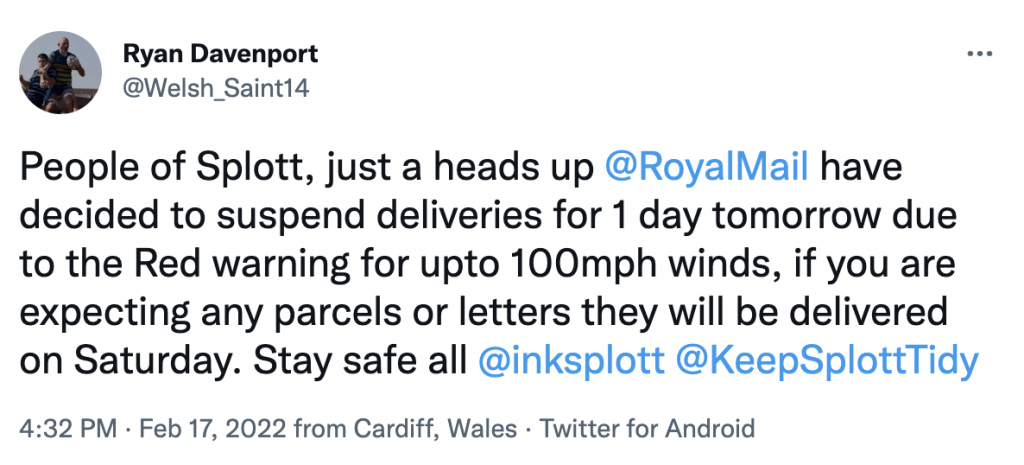 Useful Numbers
No electric? Call 105
Welsh Water 0800 052 0130
Gas Emergency 0800 111 999
Natural Resources Wales 0300 065 3000
Cardiff Council 029 2087 2087