When Ysgol Glan Morfa moved from quiet Hinton Street to busy Lewis Road, parents were assured that active travel and road traffic safety measures would be put in place.
Three new zebra crossings and zig-zag no parking zones were installed, however parents are concerned that people are flouting the rules and endangering families.
Splott resident Leo Garcia posted a series of photos on Twitter this week showing cars parked next to the crossings on the white zig zags and on the pavement opposite the school and asked South Wales Police if they could help.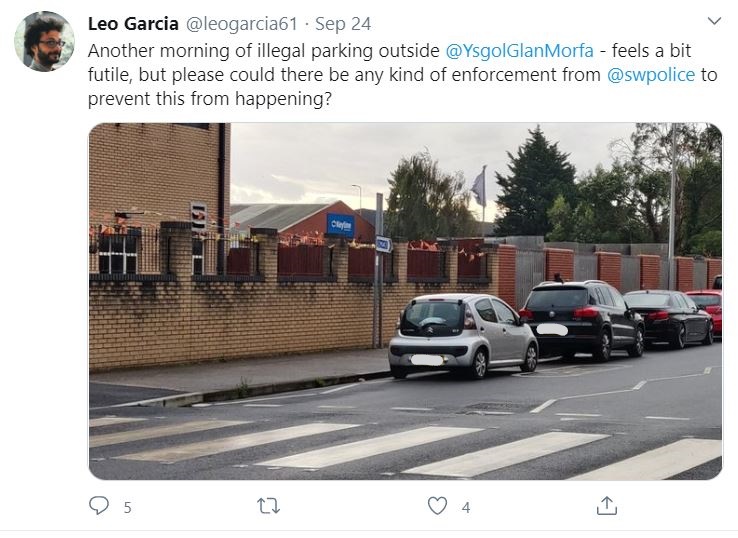 Cardiff Council responded and advised that a camera car would be at the location the following morning to prevent/enforce any further offences, however the car didn't appear outside the school during this morning's drop-off.
Another Splott resident also raised concerns this morning about drivers parking on pavements along Lewis Road and reported a near miss with a car:

Splott councillor, Huw Thomas, expressed his dismay at parents parking illegally close to the school and has asked Council officers to act:
"As a Governor at Ysgol Glan Morfa, it's a concern and a disappointment that drivers are parking illegally around the Zebra Crossing on Lewis Rd. Sadly, it appears that some of the people doing this are parents of Glan Morfa. It's bewildering frankly that they would do something that puts their own children, and others in danger. The Council has invested heavily in safe routes to the school, and there is an arrangement in place for parents to use the Lidl Car Park if they need to drive. I would urge all drivers to observe the traffic and parking rules – this is particularly important when people need to be socially distancing on pavements. I've asked Council officers to step up enforcement action in the area, and we will also look at restricting parking further on Lewis Rd."
White zig-zags are enforced by councils and the local police. Leaving a vehicle in a dangerous position (code MS10) could lead to 3 penalty points, which would stay on your licence for four years and land you with a hefty fine.
Adamsdown resident, Sian, raised another safety issue in a follow-on to Leo's tweet, requesting that something be done about the zebra crossing at the end of East Tyndall Street. Her tweet read:
"Thanks for highlighting this Leo. Would be great if the crossing outside the Maltings on E Tyndall St could also be looked at – traffic coming up to the jctn often stops on the crossing, or are so busy looking to see if they can go they don't stop even if kids are on the crossing"
I spent less than a minute in view of the crossing this morning and witnessed two vans and a car stop on the crossing itself.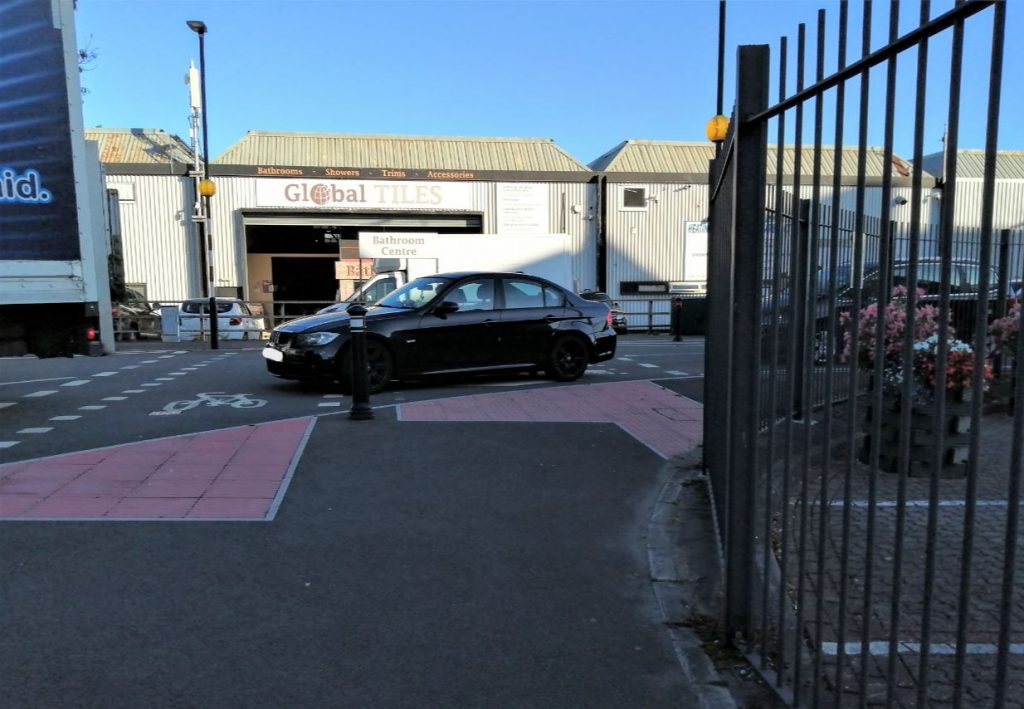 Splott resident and Secretary of Keep Splott Tidy, Louise Clarke, tweeted:
"As pedestrian & driver this crossing is so dangerous! The crossing is badly placed. If you are a pedestrian standing by the railings, a driver's view is obstructed by the railings so the pedestrian is hidden. I've raised in PACT."
During the summer holidays, Sian's seven-year-old daughter, Arianwen, drew her route to school, marking out the danger points and highlighted that cars don't always stop on the crossing: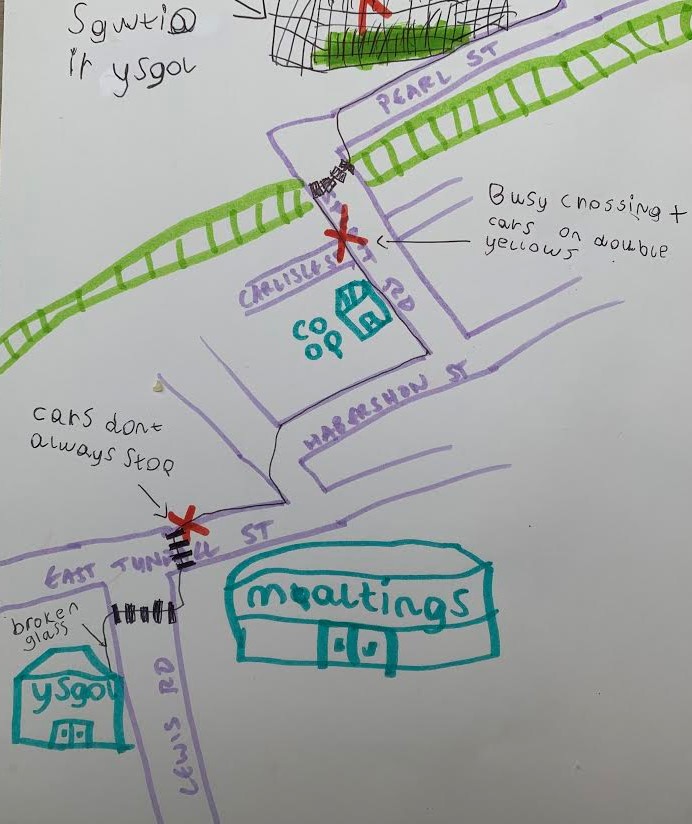 Andy Regan, Chair of Governors at Ysgol Glan Morfa, said:
"There are two safety issues here – the East Tyndall Street crossing and parking illegally on Lewis Road.
"The school governors asked last year for the crossing warden to be moved to cover the more dangerous crossing on the Maltings corner, and this was done. I've now asked the council for that to be reintroduced.
"The other is parking outside the school. We understand that the new drop off arrangements because of Covid-19 may be making people's commute more complicated, but the current situation is dangerous for children at the school.
"All parents have been reminded of the need to park safely and that we have an agreement with Lidl who have kindly said that Glan Morfa parents and guardians can use their car park in the mornings for drop off. So I'd encourage people to set off a few minutes earlier to park at Lidl, and help keep the road outside school clear and safe."