Ysgol Glan Morfa, Splott's Welsh language primary school, moved to a fantastic new facility on Lewis Road a few years back, leaving its old home on Hinton Street in lower Splott.
Now the site is set to be demolished to make way for….well, that's the question.
Hoarding boards have gone up around the school perimeter this week and Cardiff Council notices have been attached to lamp posts notifying residents of the intent to demolish before the 30th August 2022.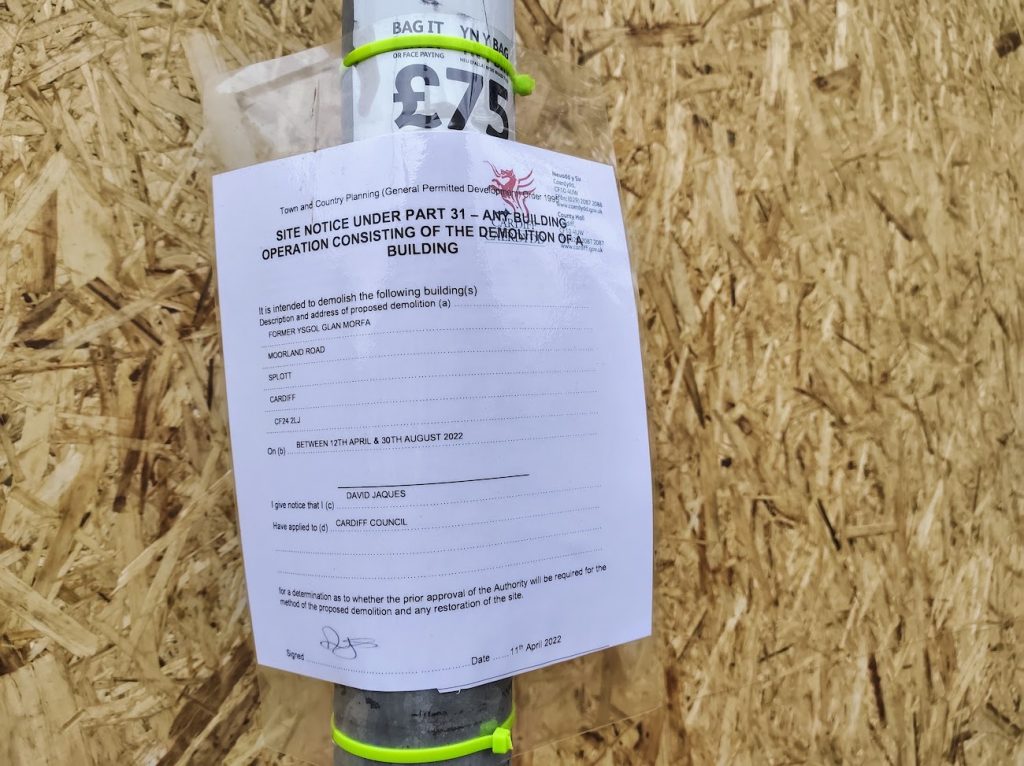 The future of the site is somewhat unknown. There are many trees with protection orders within the boundary (thank goodness – some are the oldest trees in Splott) as the site was once Moorland Gardens, opened to the public on May 30th 1895 (find out more about Moorland Gardens here.)
The site is also on a flood plane, which makes planning permission for flats or houses quite tricky.
A quick search on Cardiff Council's website shows no planning applications other than for the demolition (which you can see here).
There are whispers that a few housing agencies have shown an interest in the site if an area within the boundary could be approved for development, but nothing concrete has emerged (pardon the pun), probably because of the flood plane classification.
This isn't unusual; after all, there is a housing crisis and inner-city land is much sought after these days.
But I wonder, do we have to build on every scrap of it in Cardiff?
If I could wave a magic Inksplott wand and make my dreams come true, the site would be transformed into a mini forest of native trees, an orchard, small wetlands, wildflower park and raised bed allotment, all publicly owned and managed with wide, accessible paths and spots to sit. A place for us to connect with nature, ourselves and each other.
Biodiversity would thrive in an area surrounded by steelworks and industrial estates and one of the parts of Cardiff with the least greenery would be gifted a plot of land to cultivate to help absorb the pollutants in the air and provide a little green lung in downtown Splott.
If anyone has a magic wand, please wave it our way.
But that's just me. What would you like to see on the old Ysgol Glan Morfa site? Let me know!