On Freshmoor Road you will find a little green van bringing a taste of Portugal to Splott.  Renowned for their picado, steak sandwiches and loaded sweet potato fries, Pregos Street Food brings a taste of sunshine!
Pregos is a husband and wife team who both love food and enjoy cooking so decided to find a way to turn their passion into a career.  That passion has paid off, with Pregos Street Food nominated for two food awards this autumn.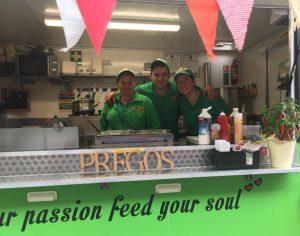 They are finalists in the Streetfood Restaurant of the Year in the Restaurant Awards 2019, Welsh Edition, along with Sticky Fingers Street Food, Chai Street, 
Mowgli Street Food, Poon's Street Food (Carmarthen), The Lime Crab, The Canteen Newport, and Cafe mor – The Pembrokeshire Beachfront (Pembroke).
They are also finalists in Streetfood of the Year and Best of South Wales at The 1st Welsh Takeaway Awards 2019
Owners of the business, Ally and Duarte, thanked their customers:
"Thank you all so much for your continued support, we certainly couldn't do it without you!"
Good luck Ally and Duarte!  Having sampled your delicious dishes, you'd certainly have my vote!
You can follow Pregos on Facebook and Twitter (@Pregos_No1)
You can find Pregos on Freshmoor Road in Splott (off Lewis Road which has Splott Market on it).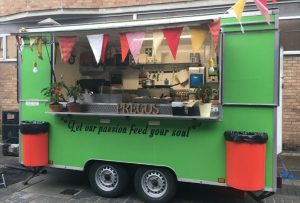 Pregos is open Monday to Saturday, 9pm – 2pm.
Find out more about Pregos Street Food here.