Last Sunday, 93 runners and 15 volunteers gathered in the early morning autumn rain for a special event; the launch of the Tremorfa Park Run, the very first in East Cardiff.
Parkrun is a timed 5km run, pitched as 'it's you against the clock'.  Runs take place every Saturday morning at 9:00am
The parkrun phenomenon has exploded across the UK in recent years, with popular events popping up across other parts of Cardiff, like Blackweir and Grangemoor in Grangetown.
The Tremorfa parkrun takes place at Tremorfa Park, Hind Close, Pengam Green, Cardiff, CF24 2HF (see Course page for more details).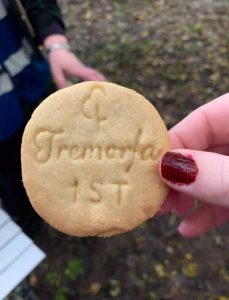 Taking part is free, but please register before your first run (you only need to register with parkrun once). Don't forget to take a printed copy of your barcode (request a reminder). If you forget it, you won't get a time (find out more here).
You don't have to be particularly fast and participants are encouraged to go along and join in at their own pace.
Local Councillor, Ed Stubbs, led the campaign to bring parkrun to Tremorfa. He and the other five run directors for Carol James, Kirsty Palmer, Nia Lloyd and Tim Dawe were delighted by the number of runners and volunteers that turned out for the launch event.
Ed said:
"It has taken 10 months from us suggesting the park to today's first event and a lot of hard work has been put to get to this point. We are really proud to be running the first East Cardiff parkrun and hope that people continue to come along and join in. Huge thanks to parkrun ambassador Stephen Wood, who has given us loads of help."
Members of Tremorfa Park Community Group are also happy that parkrun has ventured to our neck of the woods and posted on their Facebook Page:
"We're excited to see our park being visited and used by visitors from all over Cardiff and beyond!"
Tremorfa parkrun needs you!
Volunteers are crucial to the future of Tremorfa parkrun and more are needed to ensure the run takes place each week. Cllr Ed Stubbs explained:
"parkrun is a free event staffed completely by volunteers. In order for this run to succeed and grow we need people to come forward and volunteer. If you can help drop us an email at tremorfa@parkrun.com."
Volunteers could be organising the finish funnel, operating the timer, or scanning the runners' barcodes with simple barcode readers. First-time volunteers are usually given a general marshalling type job, so they get a feel for how parkrun operates.  No one is ever given a task that they aren't comfortable with.
Find out more about becoming a Tremorfa parkrun volunteer here.
Join in!
A last message from the team behind Tremorfa parkrun:
"Every week we grab a post parkrun coffee in Tesco Extra Pengam Green – please come and join us!  We also have the best parkrun biscuits in the world!"